We will teach you how to evaluate forex robots yourself and you can choose the best robots to trade right now.
Forex Robot is a programmed mathematical algorithm for one of the available trading platforms allowing a trader to follow the trading strategy in fully automatic mode without the manual intervention of a trader. Forex robots can maximize profits by analyzing a large number of trading tools at the same time.
Forex Robots – How they work.
Forex robot analyzes the quotes of each new tick and makes decisions to open the order when the specified conditions are met, or it is more correct to tell the robot trading algorithm to open the position. The entry conditions can be as technical indicators (for example MACD) or superposition of several indicators (for example MA and Stochastic), the appearance of a certain pattern on the chart, or statistical indicators. Also, the conditions of entry can be signals from news providers for mechanical trading (trading on economic news) or fast quotes (latency arbitrage).
Once the order is open, the robot can apply a stop loss to the order, and a profit. The closing of a signal can be either the prescient level, the foot level, or similar conditions described by us in the opening conditions.
Also, an important part of the trading robot is the Capital Management module, which allows you to calculate the size of the lot according to a given algorithm, depending on the size of the account deposit and the risk that the trader is ready to take.
Advantages and disadvantages of trading with forex robots
Benefits
Ability to analyze multiple trading instruments and data that is not possible in manual trading due to human limitations

Instant decision making

Excludes the emotional component

The ability to use multiple robots on one account, thereby increasing profitability and diversifying risks

Can be optimized and tested on historical data

Can work both on demo and on real accounts
Disadvantages
High cost and additional cost associated with buying a VPS.

Availability of a large number of low-quality, low-efficiency, and high-risk robots on the market.
1- VPS – Virtual private server is recommended for use in automatic trading for hosting trading platforms. The use of VPS for forex trading at the same center date allows to reduce the time of execution of orders and reduce the negative slip. Especially important is the use of reliable VPS for forex trading when trading forex robots based on latent arbitrage or other types of forex arbitrage and news trading.
Ranking Forex Robots
Having analyzed a huge number of ratings of forex robots for 2021, we have concluded that such ratings are not objective and can mislead a beginner trader that will lead to loss of deposit and disappointment in trading in the forex market. Such ratings are often compiled by the manufacturers of forex robots or by affiliates receiving a percentage of sales. We noticed that many forex robots that have been selected in the top 10 as the best forex robots to trade show unstable results in 2021 or use high-risk algorithms. For this reason, we would like to present several recommendations for the trader to evaluate such ratings and make a considered decision based on the acquired knowledge, excluding emotions and the desire for rapid enrichment.
Criteria for the valuation of forex robots
Let's consider the criteria of valuation of forex robots on the example of one of the robots which occupies the first places in some top 10 found by us on the Internet. I don't specifically mention the name Forex Robot because our job is to teach the trader how to do the evaluation himself, not in anti-advertising products. Statistics available at https://www.myfxbook.com/

Monthly gain (%) – Normal monthly profit for the robot should be in the range of 10-30% with maximum drawdown up to 15% -20%

Drawdown (%) – drawdown above 20% leads to the risk of capital loss

Equity – Growth (red line) and Equity Growth (yellow line) – should be virtually the same. Such dips as in point 3 in the figure show that the adviser overdoes the drawdown due to a large stop loss or averaging position. To test our theory, it is necessary to check whether there are simultaneously open orders for one trading instrument.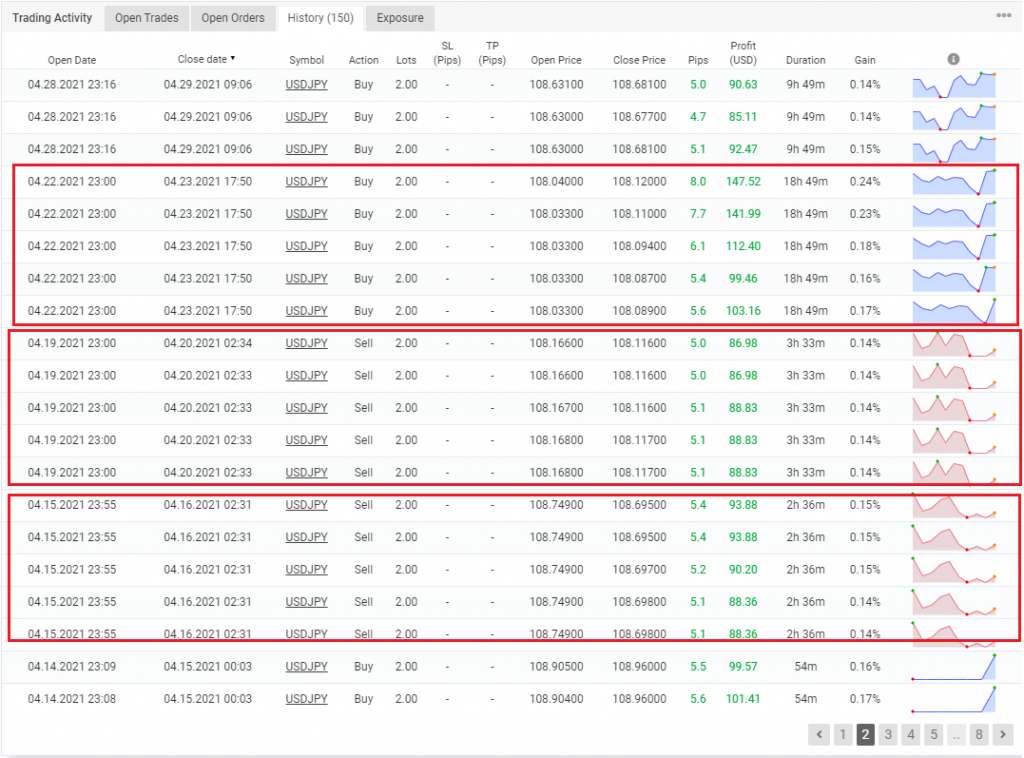 We see that the robot opens a series of orders for one instrument, which is quite risky.
An in-depth analysis by drawdown shows that the adviser has been caught in some large slips at almost the same time, indicating that work is mixed in different market conditions.

Then we analyze the profit by months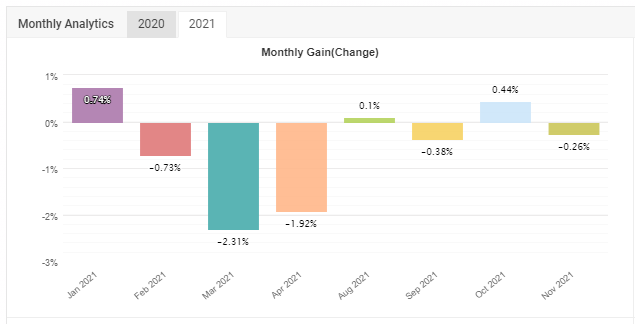 Forex Robot showed good results in 2020 but began to lose in 2021.
Additional performance indicators of forex robot

Profit Factor -The profit factor is defined as the gross profit divided by the gross loss (including commissions) for the entire trading period. This performance metric relates the amount of profit per unit of risk, with values greater than one indicating a profitable system.
Standard deviation – A standard deviation is a statistic that measures the dispersion of a dataset relative to its mean.
Sharp ratio – is used to help investors understand the return of an investment compared to its risk. The ratio is the average return earned more than the risk-free rate per unit of volatility or total risk. Volatility is a measure of the price fluctuations of an asset or portfolio.
Expectancy – Expectancy tells you what you can expect to make (win or lose) on every trade.
Standard Deviation -Standard Deviation is a statistical measure of volatility. It shows how much variation or dispersion there is from the mean (expectancy). (Expectancy).
Z-Score – Z-Score is used for calculating the ability of a trading system to generate wins and losses in streaks. It enables us to see if the streaks generated are of a random pattern or not. What we're looking to see is a z-score value greater than 1.96 or less than -1.96 (Equal to 95% probability or better, as shown in the table below).
Features of analysis of robots for arbitrage  trade
To evaluate the software for arbitrage trading, you need to make sure that the robot does not close the transaction after a few milliseconds with a profit of 1-2 pips, as such robots will be quickly blocked by a forex broker. Transactions must be placed on another account or at least on the same account.
The robot should have a simulation of manual trading and at the same time, there was no loss of execution time of the order.
Be prepared for the fact that you will have to pick up forex brokers and often change them for trading an arbitrage strategy, but the result of trading will always be better than that of any other forex robot. In more detail, we have described the intricacies of arbitrage in our article ARBITRAGE TRADING – AN ULTIMATE GUIDE
Bottom line
You can find a huge number of forex robots on the Internet and their prices can vary from 0 to several thousand dollars, but with this article, I would like to teach a beginner trader to evaluate the effectiveness of forex robots independently without relying on other people's opinions and various tops of forex robots. Risk Assessment When Using Forex Robot Helps Make Forex Trading
FAQs
Q. Who needs a forex robot?
A. Forex robots can help novice trader to systematize their trade and not make mistakes caused by emotion and inexperience, and professional traders increase profitability by analyzing more trading instruments.
Q. How much do I need to start trading with a forex robot?
A. If your broker allows you to trade with a minimum lot size of 0.01then for most forex robots a $100 deposit will be sufficient
Q. Do I need forex trading experience to start using a forex robot?
A. In most cases, companies offer remote support and will help you install and configure a forex robot, for this reason, purchase products for trading only from proven companies with a high reputation.
Q. How does a forex robot protect my forex investments?
A. HIGH-RISK WARNING: Foreign exchange trading carries a high level of risk that may not be suitable for all investors. Leverage creates additional risk and loss exposure. Before you decide to trade foreign exchange, carefully consider your investment objectives, experience level, and risk tolerance.
Q. How much can I make using a forex expert adviser?
A. Most legitimate forex robots are highly effective and have the potential of outperforming an average forex trader. And while there is no guarantee of how much you can make with a specific robot, the return on investments is to a large extent dependent on your trade settings. For maximum profitability, you are advised to stick to the recommended default settings.
Q. Do forex robots work?
A. Forex robots can be highly effective at recognizing technical setups and profitably trading the forex market. Be sure to check a forex robot's historical win rate and profit and loss record.
.Q. What forex robot is most profitable?
A. The most effective are forex robots for the arbitrage trade.
Author: Boris Fesenko Last Updated: 12 November 2021
Boris Fesenko – CEO BJF Trading Group Inc., ON, Canada https://bjftradinggroup.com is a specialist in the development of automatic systems for trading in the forex market and cryptocurrencies. Since 2000, the BJF Trading Group team of traders, mathematicians, and programmers has created over 5,000 robots and indicators. Boris has a master's degree in electrical engineering and a master's degree in programming.