This is the perfect product for cryptocurrency arbitrage traders. As the cryptocurrency market is not a mature market, there are plenty of inefficiencies.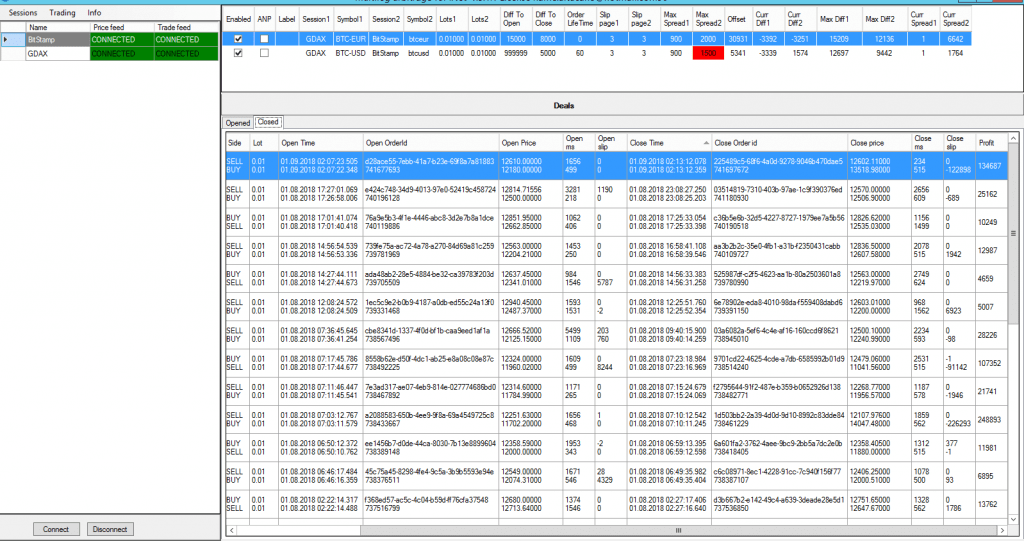 This is great news for arbitrage traders, who need inefficient markets to make money. To maximize your arbitrage trading potential, we have developed leading-edge software that compares quotes between cryptocurrency exchanges.
The list of currencies and exchanges that are supported by the program is already extensive: GDAX, Kraken, Bitfinex, Bitstamp, Bitmex, Binance, Poloniex, Bittrex, Deribit, Okex, Cexio, Huobi, Hitbtc.
| Exchange 1 | Exchange 2 | Symbol | Side 1 | Side 2 | Lots | Open Time | Open Price 1 | Open Price 2 | Close Time | Profit | Currency |
| --- | --- | --- | --- | --- | --- | --- | --- | --- | --- | --- | --- |