Introducing the SharpTrader™
Lite

Arbitrage: Elevate Your Trading Experience

Dive into the next level of trading with our SharpTrader™ Lite  Arbitrage Software. This expertly crafted trading terminal is explicitly tailored for sophisticated arbitrage strategies across various markets.
SharpTrader™ Full version vs SharpTrader™ Lite version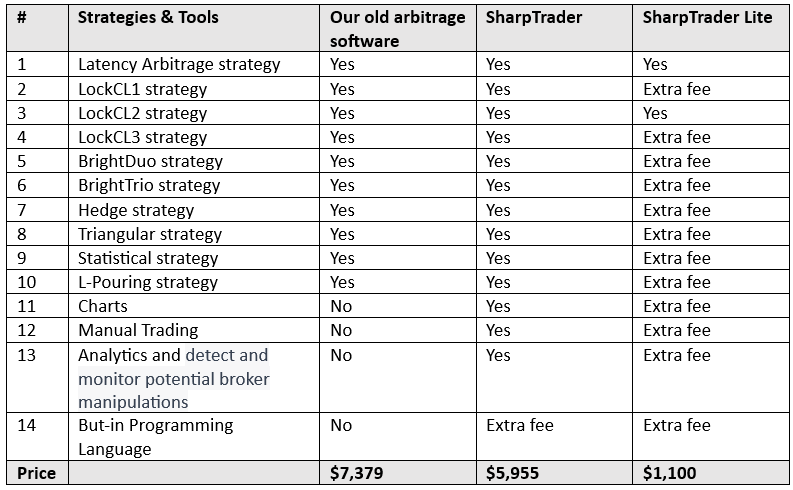 Click to learn more about SharpTrader™ Full version
Unified with SharpTrader: Connect to Multiple Broker Servers with Ease
While most standard trading terminals and web platforms restrict you to a single broker server connection, SharpTrader breaks the mold. We've pioneered the EASYFIX system – a streamlined version of the FIX protocol – allowing for seamless connections to bridges compatible with various exchanges and brokers. These bridges, specialized software interfaces, facilitate connections to cryptocurrency and financial exchanges or broker servers.
By housing connectors to exchanges or brokers in distinct bridge infrastructures, SharpTrader adopts a wise strategy with multiple benefits. Let's delve into why it's advantageous to have dedicated bridge systems for different exchanges or brokers, rather than integrating them directly into the primary arbitrage and trading strategy software.
Enhanced Trading Automation through Presets
Taking automation up a notch, SharpTrader™ Arbitrage offers an automatic setup of your trading preferences using Presets. Our current beta version showcases three unique templates tailored for various trading conditions:
Wide Spread: Designed for forex brokers with expansive spreads, this template streamlines your setup. Simply apply and adjust the lot size as needed.
Tight Spread: Tailored for brokers with narrow spreads, just activate this template and fine-tune the lot size.
Prop Firms: Crafted for traders prepping for proprietary trading firm contests. It not only customizes symbol-specific configurations but also sets critical hard stop-loss boundaries and equity counters, essential for most prop firm requirements.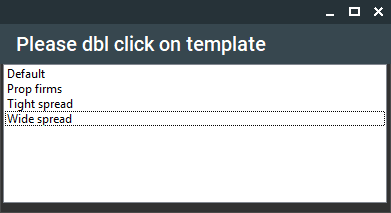 At SharpTrader™ Lite Arbitrage, our goal is to offer a fluid, automated, and refined trading journey. Harness our user-friendly capabilities to maintain your trading edge.
SharpTrader™ Lite Arbitrage: Dive into Our Native Arbitrage Strategies
In-built Latency Arbitrage Strategy: A cutting-edge, high-frequency trading technique capitalizing on latency differences between lagging and leading brokers. It capitalizes on trading with slower brokers using updated data from faster brokers. The software pinpoints price disparities (between slow and fast brokers) and commits trades on the slower broker, anticipating a price convergence with the faster broker. For instance, should the EURUSD rate on a slower broker read 1.34567 and 1.34540 on a faster one, the software initiates a sell on the slower broker.
In-built LockCL2 Strategy: Mirroring the "Lock" strategy's principles, this technique lets the software lock in gains without closing within the same account. However, its subsequent step is distinct from the original Lock Algorithm. Upon receiving a buy arbitrage signal, the software closes the Sell order and initiates a "virtual" Sell order, implementing Stop Loss, Trailing Stop, and take profit mechanisms. The genuine Sell order is reinstated when the closure condition is achieved.
More strategies are available in SharpTrader™ full version Click to learn more about SharpTrader™ Full version
SharpTrader – Latency Arbitrage Monitoring SharpTrader LockCL2 Arbitrage Monitoring
Account 1 Account 2 Account 1 + Account 2