MT4 지표 "BJF-Multi-Divergence"MT는 모든 MT4 시간대에 대한 가격과 19 표준 MT4 지표 사이의 규칙적이고 숨겨진 분기를 보여줍니다 : M1, M5, M15, M30, H1, H4, D1, W1, MN 1 차트.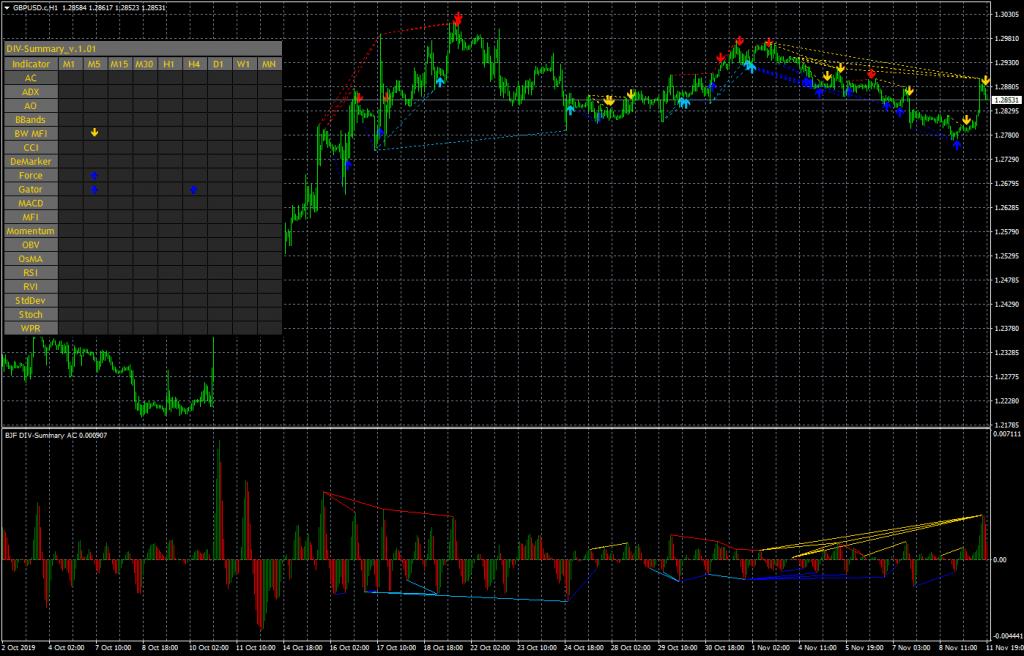 지표 목록 :
1. Relative Vigor Index Indicator (RVI)
2. Standard Deviation (StdDev)
3. Stochastic Oscillator (Stoch)
4. Williams' Percent Range Technical Indicator (WPR)
5. Money Flow Index (MFI)
6. Momentum (Mom)
7. On Balance Volume (OBV)
8. Oscillator of Moving Average (OsMA Indicator)
9. Relative Strength Index (RSI)
10. Commodity Channel Index (CCI)
11. DeMarker
12. Force Index Technical Indicator
13. Gator Oscillator
14. Moving Average Convergence/Divergence (MACD)
15. Awesome Oscillator (AO)
16. Bollinger Bands (BB)
17. Market Facilitation Index Indicator (BW MFI)
18. Acceleration/Deceleration Indicator (AC)
19. The Average Directional Index (ADX indicator)
1. 분기에 대한 검색은 가격 차트와 지표 라인에서 극한을 결정하는 것으로 시작됩니다. extremum 검색 조건은 DIV-Summary Indicator 설정에서 조정할 수 있습니다. 화면에 다음을 담당하는 매개 변수가 표시됩니다.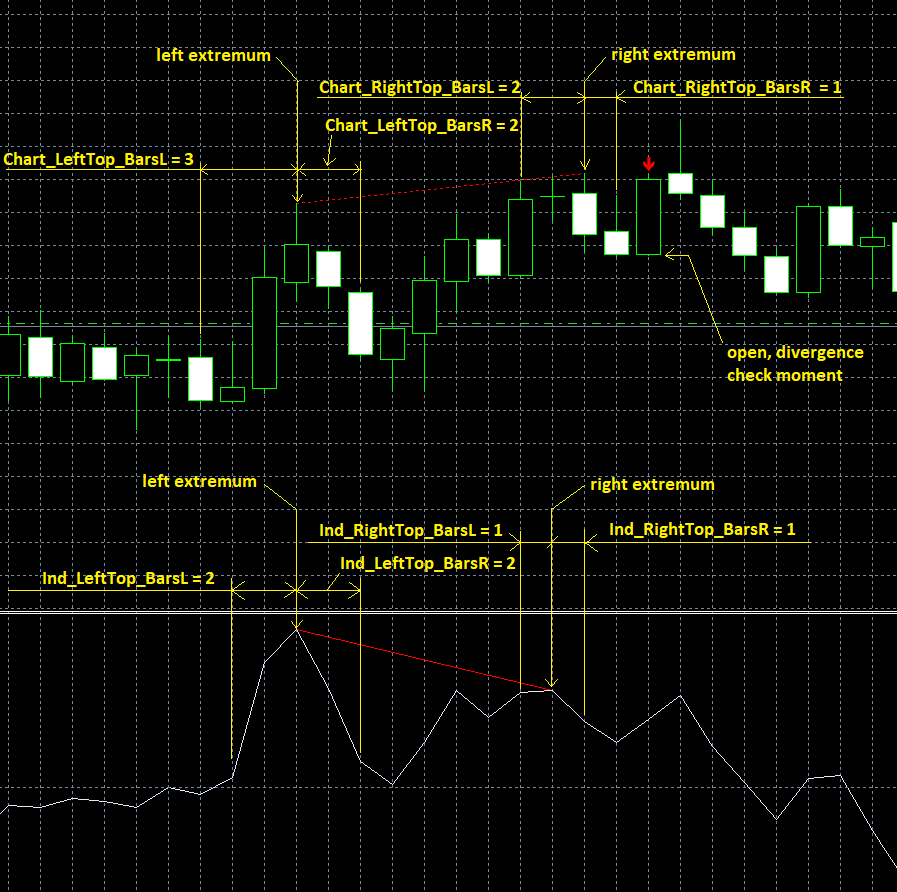 2. 새로운 막대가 나타나면 차트와 지표의 선에서 첫 번째 극단 (열기 막대에 가장 가까운)을 검색합니다. 가격 차트에서 첫 번째 극한값이 발견되면 <= RightTops_MaxBarsDiff 거리의 표시기 라인에서 쌍을 검색합니다. 다음 스크린 샷은 가격 차트에서 처음으로 극단이 발견 된 후 지표 선에서 두 개의 촛불을 통해 극단이 발견되었으며 RightTops_MaxBarsDiff = 5의 설정 값을 초과하지 않는 것으로 나타났습니다.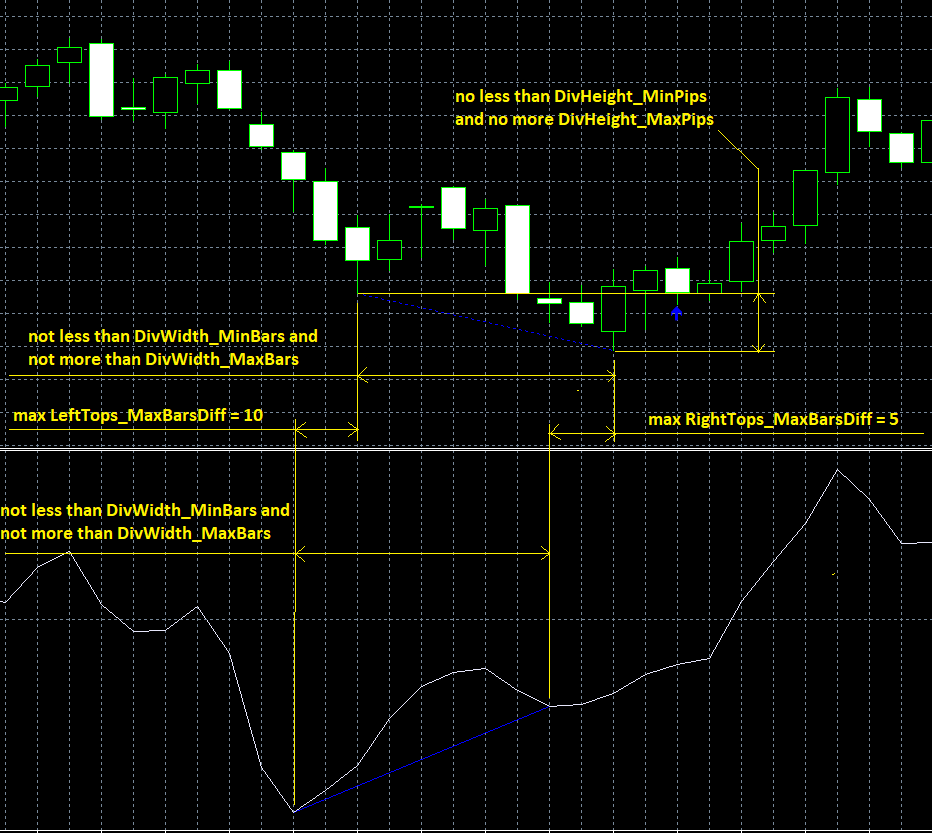 3. 첫 번째 극심한 쌍을 찾은 후 동일한 알고리즘으로 두 번째 쌍을 검색하지만 지표의 선과 가격 차트에서 오른쪽과 왼쪽의 해당 극한의 거리는 DivWidth_MinBars보다 작고 DivWidth_MaxBars보다 커야합니다. 극한의 쌍이 이러한 조건을 충족하지 않으면이 극한값은 무시됩니다.
4. 가격 차트에서 극단 사이의 거리도 높이로 확인되었습니다. DivHeight_MinPips보다 작고 DivHeight_MaxPips보다 클 수 없습니다.
5. 지표 라인의 극한값은 레벨과 관련하여 추가로 점검됩니다. 예를 들어 Bullish Divergence Reset Above = 0.0 인 CCI 지표의 경우 극값이 0보다 큰 Bullish 분기 만 표시됩니다.
6. 오른쪽과 왼쪽 쌍의 극단이 발견 된 후이 쌍이 숨겨진 또는 표준 발산을 나타내는 지 확인합니다. 가격 차트 및 지표 창에 차이 선이 표시됩니다.
.
7. 과거 데이터에서 수심 = MaxBars까지의 차이를 찾고 있습니다. 높은 CPU 사용량을 피하기 위해이 매개 변수를 크게 설정하지 않는 것이 좋습니다.
8. 도표의 표에서 마지막 닫힌 막대에서 발견 된 마지막 분기 신호를 볼 수 있습니다.
9. 은닉 또는 표준 발산 계산을 활성화 / 비활성화 할 수 있습니다. 계산을 비활성화하지 않고 발산 디스플레이를 끌 수도 있습니다. 발산 색상 = 없음을 설정해야합니다.
Video