MT4-Indikator "BJF-Multi-Divergence" zeigt die regelmäßigen und versteckten Abweichungen zwischen Preis und 19 Standard-MT4-Indikatoren für alle MT4-Zeitrahmen: M1, M5, M15, M30, H1, H4, D1, W1, MN auf 1 Chart.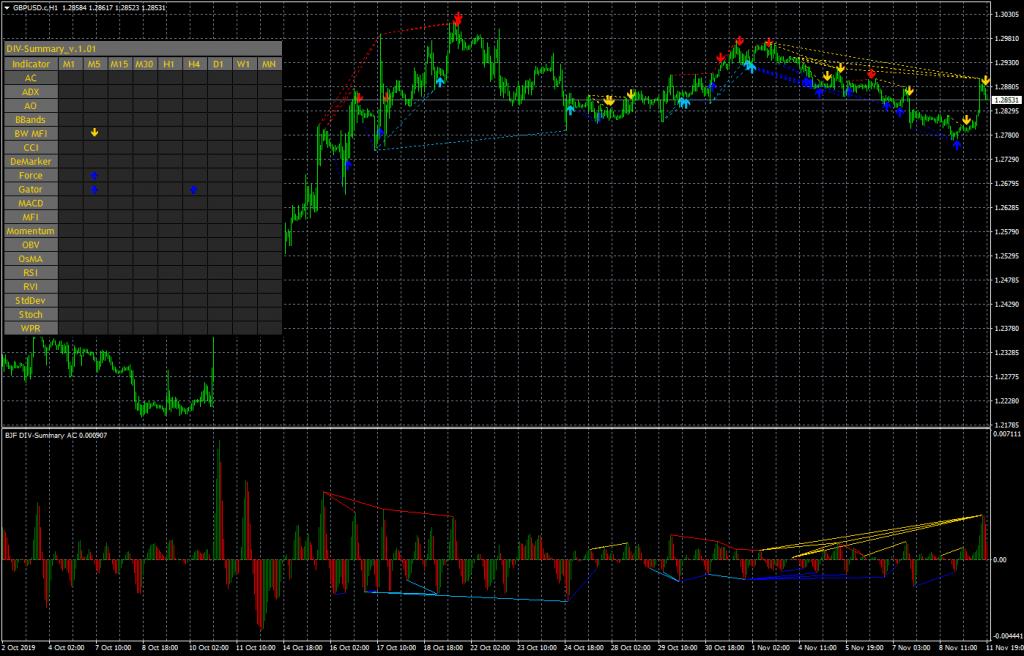 Indikatorenliste:
1. Relative Vigor Index Indicator (RVI)
2. Standard Deviation (StdDev)
3. Stochastic Oscillator (Stoch)
4. Williams' Percent Range Technical Indicator (WPR)
5. Money Flow Index (MFI)
6. Momentum (Mom)
7. On Balance Volume (OBV)
8. Oscillator of Moving Average (OsMA Indicator)
9. Relative Strength Index (RSI)
10. Commodity Channel Index (CCI)
11. DeMarker
12. Force Index Technical Indicator
13. Gator Oscillator
14. Moving Average Convergence/Divergence (MACD)
15. Awesome Oscillator (AO)
16. Bollinger Bands (BB)
17. Market Facilitation Index Indicator (BW MFI)
18. Acceleration/Deceleration Indicator (AC)
19. The Average Directional Index (ADX indicator)
1. Die Suche nach Abweichungen beginnt mit der Ermittlung der Extrema in der Kurstabelle und in den Indikatorlinien. Die Bedingungen für die Suche nach Extrema können in den Einstellungen des DIV-Summary Indicator angepasst werden. Der Bildschirm zeigt, welche Parameter für was verantwortlich sind: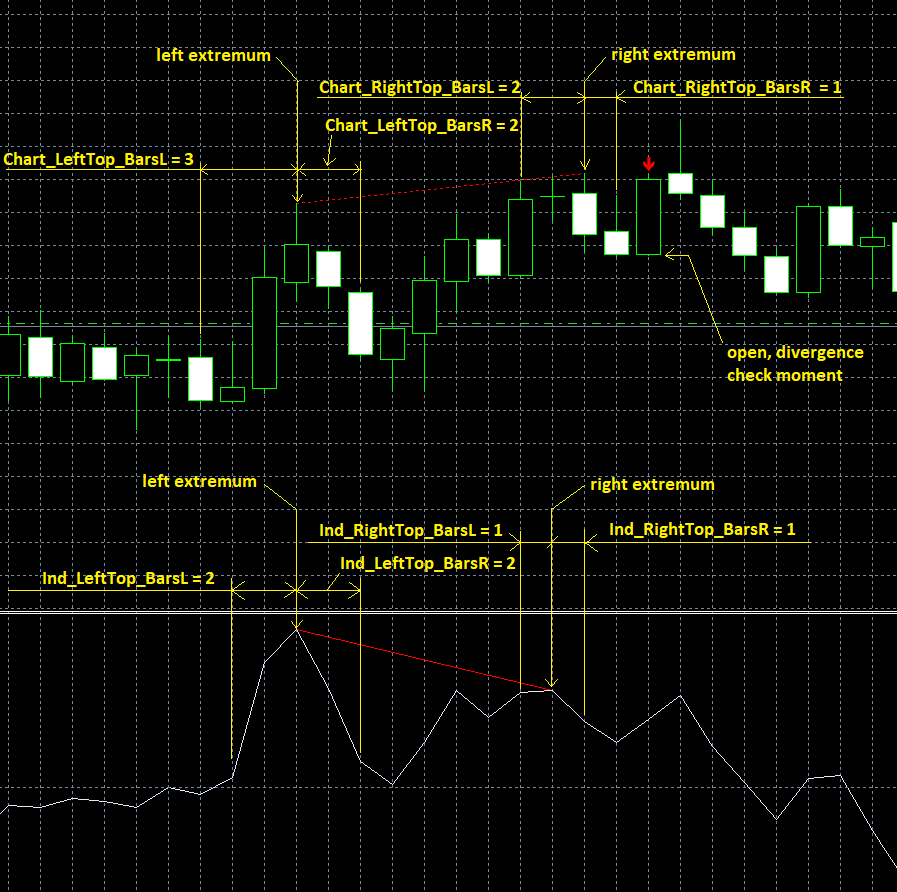 2. Wenn ein neuer Balken angezeigt wird, suchen wir nach dem ersten Extremum (am nächsten zum Eröffnungsbalken) in der Linie des Diagramms und des Indikators. Wenn das erste Extremum in der Kurstabelle gefunden wird, suchen wir auf der Indikatorlinie in einem Abstand <= RightTops_MaxBarsDiff nach einem Paar. Der folgende Screenshot zeigt, dass das Extrem zuerst in der Kurstabelle und dann durch zwei Kerzen in der Indikatorlinie ermittelt wurde und dass der eingestellte Wert von RightTops_MaxBarsDiff = 5 nicht überschritten wird.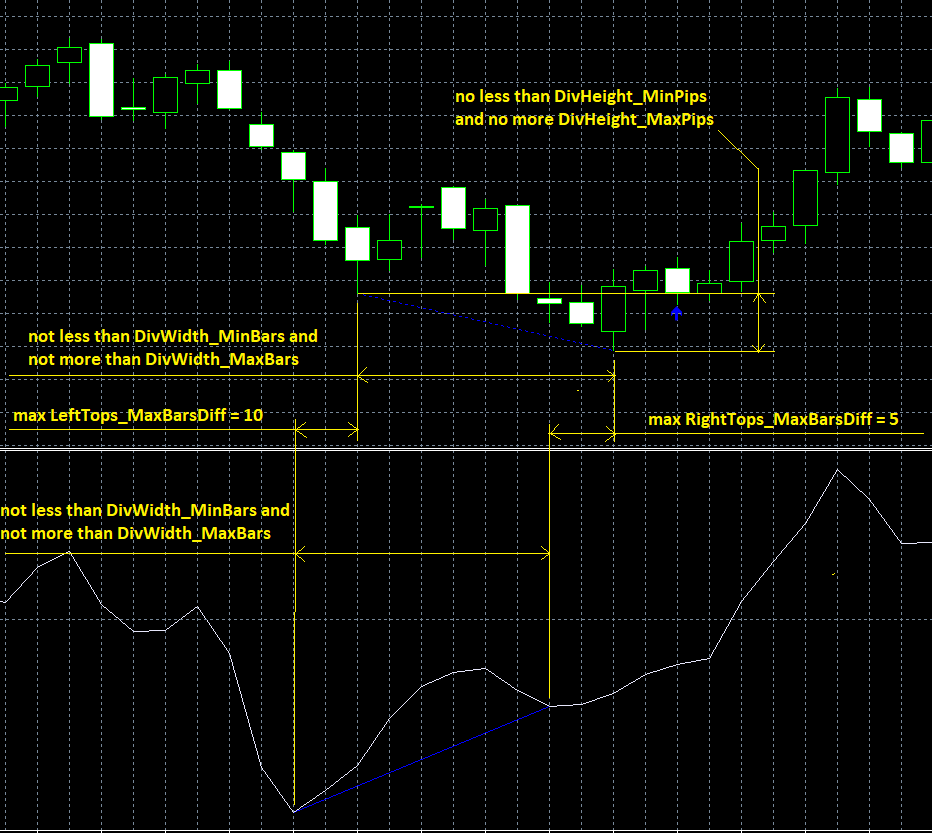 3. Nachdem das erste Paar von Extrema gefunden wurde, suchen wir nach dem gleichen Algorithmus nach dem zweiten Paar, aber der Abstand zwischen den rechten und linken entsprechenden Extrema in der Linie und im Kursdiagramm des Indikators sollte nicht kleiner als DivWidth_MinBars und größer als DivWidth_MaxBars sein. Wenn ein Extrema-Paar diese Bedingungen nicht erfüllt, werden diese Extrema ignoriert.
4. Der Abstand zwischen den Extremwerten in der Preistabelle wurde ebenfalls in der Höhe überprüft. Es sollte nicht kleiner als DivHeight_MinPips und größer als DivHeight_MaxPips sein.
5. Extremwerte auf den Indikatorlinien werden zusätzlich auf Pegel geprüft. Beispielsweise werden für den CCI-Indikator mit Bullish Divergence Reset über = 0,0 nur Bullish Divergences mit Extremen über Null angezeigt.
6. Nachdem das rechte und linke Extrema-Paar gefunden wurde, prüfen wir, ob dieses Paar eine versteckte oder eine Standard-Divergenz darstellt. Divergenzlinien werden im Preisdiagramm und im Fenster des Indikators gezeichnet.
.
7. Wir suchen nach der Abweichung von historischen Daten zu den Tiefen = MaxBars. Es wird nicht empfohlen, diesen Parameter auf groß zu setzen, um eine hohe CPU-Auslastung zu vermeiden.
8. In der Tabelle auf der Karte sehen Sie die letzten Divergenzsignale, die auf dem letzten geschlossenen Balken gefunden wurden.
9. Es ist möglich, versteckte oder Standard-Divergenzberechnungen zu aktivieren / deaktivieren. Sie können Divergenzanzeigen auch deaktivieren, ohne die Berechnung zu deaktivieren: Sie müssen Divergenzfarbe = keine festlegen
Video